Indonesian Consumers Keep Market Strong
November 5th, 2012
Courtesy of The Financial Times, a report on Indonesia's strong consumer spending:
Indonesia's economy grew by an enviable 6.2 per cent in the third quarter, in line with market expectations. With benchmark rates at a record low and exports responsible for a far smaller portion of the economy than its neighbours, Indonesia appears to have cemented its place as an economy with a high resistance to global headwinds.

Though some had been expecting a little more, most analysts still seem confident that Indonesia will continue to chug along quite nicely.

Indonesian exports were a drag on growth – thanks to falling demand for commodities – but overall the economy performed strongly. That was due largely to two major factors: strong consumer spending and a pickup in manufacturing to meet that demand. Here's a chart from Barclays.

Private consumption increased 5.7 per cent year on year in Q3, up from 5.2 per cent in Q2. Manufacturing moved even faster, expanding 6.4 per cent, making it the largest contributor to headline growth. Private investment looks healthy too. This from HSBC:

As is evident from other data, such as that published by the Investment Coordination Board, both domestic and foreign investment remain at healthy levels. And indeed why not? Despite macroprudential measures by the central bank, Indonesian consumers continue to indicate a willingness to spend, buoyed by a tightening labour market, rising incomes and confidence over the economic outlook.

The equity market didn't blink at the data – slipping 0.8 per cent in Monday trade. While the Jakarta index has not had a stellar run to match neighouring Thailand (+27 per cent) or the Philippines (+25 per cent) this year, it has continued to grind higher, and remains just a touch off its record peak.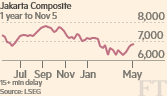 ---
This entry was posted on Monday, November 5th, 2012 at 6:30 pm and is filed under
Indonesia
. You can follow any responses to this entry through the
RSS 2.0
feed. Both comments and pings are currently closed.