More Pipe(line) Dreams? Nabucco's Future
December 11th, 2007
Via Energy Daily, an excellent review of the proposed Nabucco natural gas pipeline, a 2,050-mile-long, $7.3 billion project connecting the Caspian region, Middle East and Egypt via Turkey, Bulgaria, Romania, Hungary with Austria and further on with the Central and Western European gas markets.  As the analysis concludes, the success of the pipeline project rests on two large assumptions that seem shaky at present, firstly that Central Asian nations will be willing to commit sufficient volumes of gas to the project to make it feasible and secondly, that Russia will stand idly by.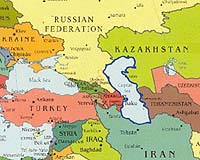 First some background:
 "…the pipeline would start at the Georgian-Turkish and/or Iranian-Turkish border respectively and transit Anatolia, eventually terminating at Baumgarten, Austria. If built as planned, the line would have an annual capacity of 31 billion cubic feet of natural gas.

The concept of Nabucco was first broached in February 2002 discussions between Austra's OMV Gas and Turkey's BOTAS. Three months later, Hungary's MOL, Budapest/Hungary; Romania's Transgaz S.A. and Bulgaria's Bulgargaz EAD climbed aboard the project and during a meeting in June 2002 in Istanbul all five parties signed a protocol on their intention to jointly construct a new gas pipeline crossing Turkey, Bulgaria, Romania and Hungary that would connect Middle East, Egyptian and Caspian gas reserves with Austria and Central and Western European consumers…."
Now, the analysis:
"…For its part, the Kremlin is involved in promoting its own alternative to supply Central Asian natural gas to southern Europe with its South Stream natural gas pipeline project. South Stream would have a similar capacity to Nabucco of 30 billion cubic meters of gas annually…

…South Stream would start from Russia's Black Sea coast Beregovaiia compressor station and extend to Bulgaria's Varna port, from where its southern spur would continue through Greece to southern Italy.South Stream's northwestern spur would transit Romania, Hungary and Slovenia to northern Italy with a secondary spur line terminating in Austria. At the very least, South Stream makes it unlikely that Gazprom would become involved with Nabucco to any significant extent.

….The nasty reality is dawning in Washington that whatever its political wishes, Russia is becoming an ever more important energy supplier to the European Union, a situation that will only increase in the short term.

In northern Europe, Germany is actively pursuing a special, strategic relationship with Russia, and nowhere more so than in the field of energy.

Berlin is now Russia's largest trading partner, and buys more Russian gas than any other country, about 40 percent of its total consumption, a situation that will only increase after the completion of the North Stream subsea Baltic pipeline.

Furthermore, Washington's maladroit policies in Turkmenistan mean that in the short term Ashgabat's massive energy supplies have been stiched up by Gazprom, with Turkmenistan upping its pipeline dependency on Russia.

Despite Turkey's earnest desire to become an energy transit hub, it is already a major consumer of Russian gas — 60 percent of its gas is delivered via two Russian pipelines, and the Kremlin has proved in the past that it is willing to play the natural gas energy card with countries that defy its dictates.

Therfore Washington's wish for long, expensive pipelines that advance Washington's geopolitical concerns by undercutting Kremlin influence seem at odds with European wishes for reliable sources of natural gas.

Even if Nabucco is eventually built, the nagging question remains of where the gas to fill it would come from, as the Bush administration isolates Iran even as Moscow makes further inroads into Kazkahstan and Turkmenistan…."
---
This entry was posted on Tuesday, December 11th, 2007 at 6:28 am and is filed under
ENI
,
Gazprom
,
Iran
,
Italy
,
Kazakhstan
,
OMV
,
Romania
,
Russia
. You can follow any responses to this entry through the
RSS 2.0
feed. Both comments and pings are currently closed.